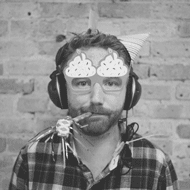 My name is Timo Kuhn.
I'm a product designer designer living in Chicago, IL.
I'm looking for a new challenge!
For the last 3½ years, I served as the product designer at first, design director later at Dscout, a mobile research platform. There I was responsible for all things design. From the mobile apps to the desktop SaaS platfrom aswell as the marketing and event design.
Before that, I was the senior designer at Carbonmade, crafting their catalogue of themes.
Have a look at some of my work.
You can also find me tweeting or posting pictures on instagram. I'm also dribbbling every once in a while or posting the occasional codepen. Oh right, and there's LinkedIn of course.
Call me (please don't) or drop me a line!
Also: Résumé.
Last updated: Oct 2019